My baby sister Megan turned eight last Saturday.
isn't she a beaut?
I'm uber-happy with the sunburst I captured here. And I was in a "cross-processy" mood while editing these. Loving it:-)
It's Lovely Photo Wednesday at
Aspire
today. And guess what? Things are a bit different this week. As in, excitingly different. Head on over to Hannah's to find out more...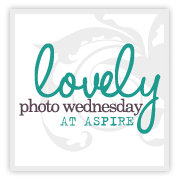 Have a really wonderful Wednesday, sweet friends!