{Note: Shoot 'n Tell photo farther down in post.}
I'm linking up at
Ashley's
today for another Scavenger Hunt Sunday. These are so fun, although I haven't gotten around to doing this in a while. I feel very on top of myself for getting everything ready *before* Sunday this week. Like, I need to go celebrate with cake or something. Really:-)
pink

Does anyone else find their lens caps very photogenic? Because I think mine ends up in photos a lot more than it should. I love the pink background here, though. Truth to be told, it's a shirt of mine. Yep, for real.
books

This was rather last-minute on my part. I just tugged my Little House series off the shelf, stacked them on my bed, and shot. I don't think it turned out half bad, either. Actually, I really love it ;) Texture is courtesy of Picnik.
fall colors

Sunflare, I love you. The end. (Actually, confession time: before I edited this, it had pretty much no "fall colors" in it. So, Picnik, I love you too.)
leaf

Pretty straight forward...But I love all of the waterdroplets. Ohh, so pretty.
orange
I took this one very literally;-) And yes, I really did go take our oranges
outside
to shoot. This was actually the only photo I got before our nextdoor neighbors came out and I started to feel a little funny lying on my stomach shooting what shouldn't even have been there. But hey, it worked!
I'm entering the above photo into this week's Shoot 'n Tell challenge, the theme being "Circular". Click below to check out other entries...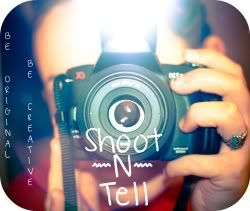 __________________
And forinterpretations of this week's scavenger hunt, head on over to Ramblings and Photos...
Have a lovely 10-10-10 today! Sorry, I just get a little giddy over dates like that. Anyone with me?
Oh, and by the way, I finally broke down and got a Flickr account. I'm currently a tad bit obsessed. If you're on Flickr, I'd love it if you
headed on over
and added me as a friend;)
Lots of love,
Hannah